On Wednesday evening (9pm); FC Nantes will arrive at Stade Geoffroy-Guichard to challenge AS Saint-Étienne as part of matchday nineteen of Ligue 1 Uber Eats. Player to watch; start of the championship and summer transfer window; everything is there. Focus on the opponent.
The player at the start of the season
At 30; Wahbi Khazri is (practically) alone; the Greens. Author of 7 goals this season in 18 games; the Tunisian international (65 internationals) intends to give everything to save ASSE.
If his stats are the proof; it's especially the No. 1 danger mood among the Greens that hits first. Combatant; generous in his efforts; be it offensive or defensive; the new Stéphanois captain gives everything for his training.
On Sunday; against Lyon – La Duchère; he was exemplary again. There is no doubt that Pascal Dupraz will have the experience of the man who tomorrow night must play his 100th game in the green; to achieve a good second part of the season. The yellows have been warned!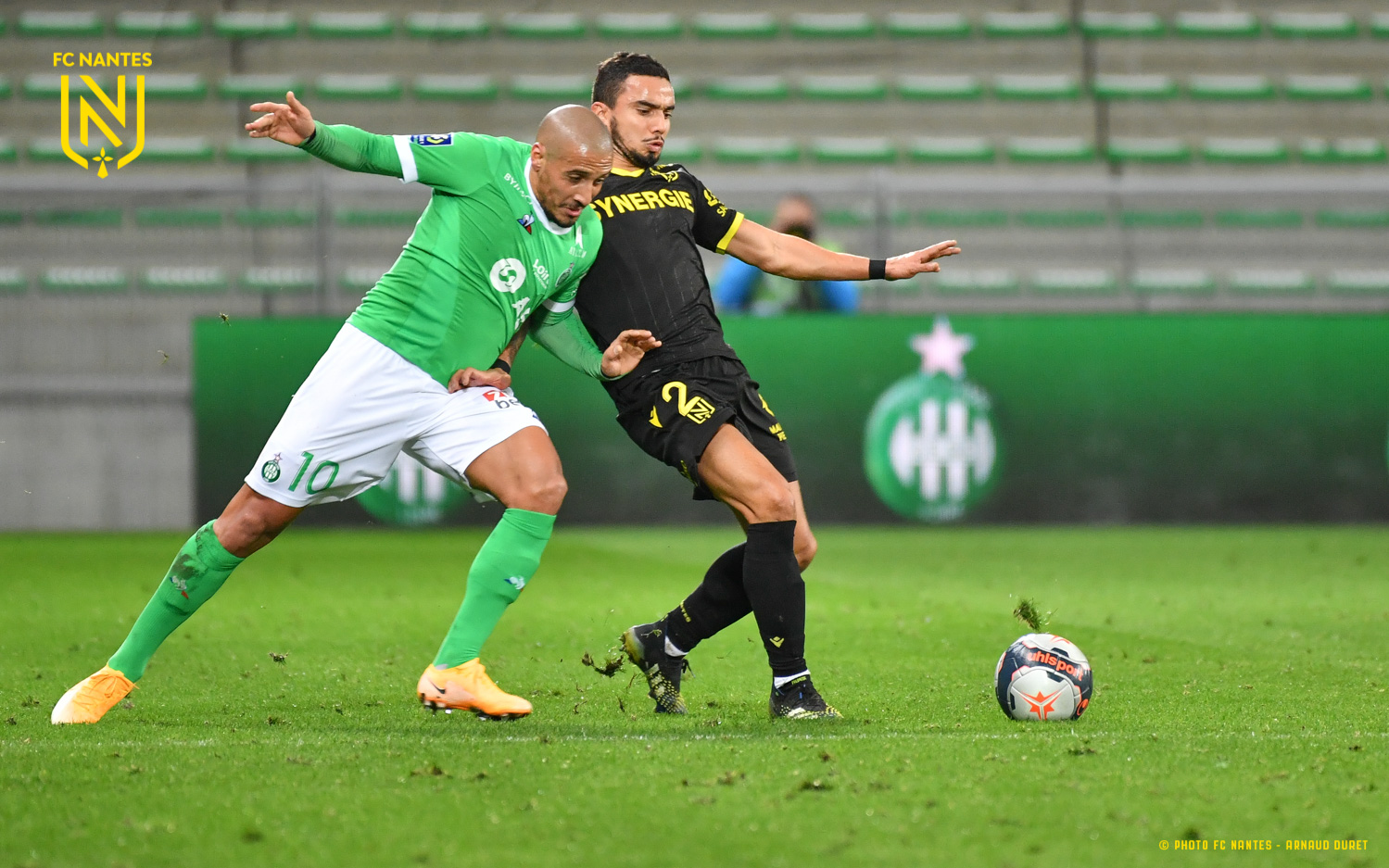 Wahbi Khazri; here in the duel with Fabio; is playing his fourth season in the green robe.
Start of fiscal year 2021-2022
Ahead of the last day of the Ligue 1 Uber Eats first leg; the Stéphanois are at a disappointing 20th place in the standings. It must be said that the start of the championship did not help the Greens get off to a good start. Indeed; the latter had to wait until matchday 13 to win his first match in L1; it was at home against Clermont Foot 63 (3-2). Before that; Yvan Neyou's teammates held on to 6 draws and 6 losses. ASSE then passed Troyes (0-1; J14); before sinking again afterward. In a series of four losses currently in the league; Saint-Etienne leaders recently replaced Claude Puel at the helm with Pascal Dupraz to create the electric shock. The first official departure of the former coach of Evian-Thonon-Gaillard; Toulouse FC or Stade Malherbe de Caen; ended successfully against Lyon – La Duchère; resident of Nacional 2 (0-1). Distrust; therefore; when the Forez players woke up.
The summer market
Arrivals: I. RAMIREZ (l. To Liverpool Fútbol Club; URU); A. KATRANIS (rp Hatayspor; TUR); S. PALENCIA (rp Club Deportivo Leganés; ESP); A. DIOUSSÉ (rp Ankaragücü; TUR); JP. KRASSO (rp Le Mans FC); M. NADÉ (rp QRM).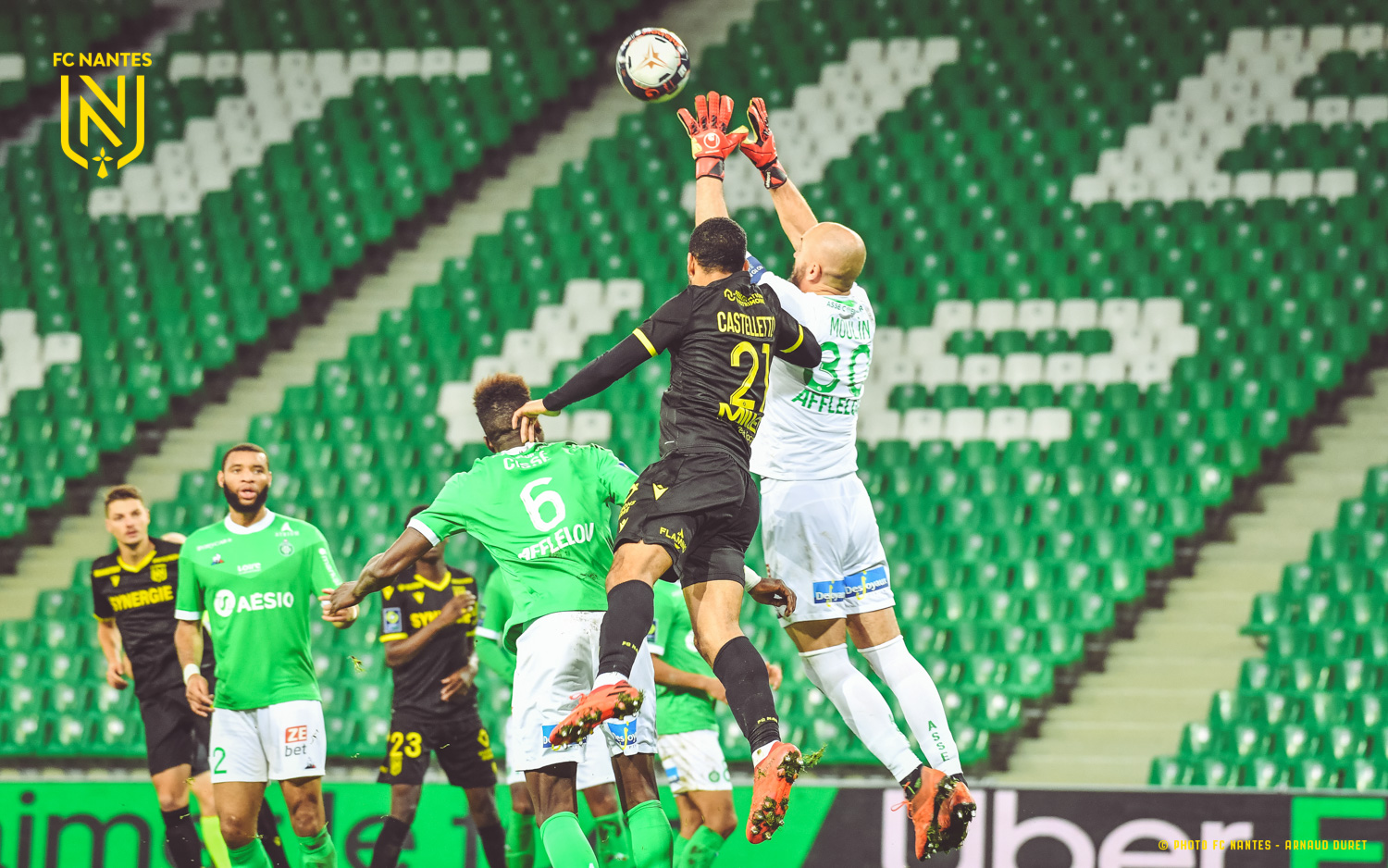 Saint Etienne goalkeeper Jessy Moulin; in a duel with Jean-Charles Castelletto; left the ASSE this summer to join ESTAC Troyes.
Departures: C. ABI (p. EA Guingamp); T. TORMIN (chamois niortais); A. KATRANIS (fc); M. DEBUCHY (Valenciennes FC); J. MOULIN (ESTAC Troyes); S. PALENCIA (p. Club Deportivo Leganés; ESP); PA CISSE (rp Olympiakos FC; GRE); A. MODESTE (rp FC Colonia; ALL); P. RETSOS (rp Bayer 04 Leverkusen; ALL); K. MONNET PACKAGE (fc)

News Now of Troyes fc on Journaltime.org