After a busy week for central banks, my view on equity markets has not changed. I still expect new lows for the year in the major European and US indices. He only needs to drop another 4%-5% to get it.
It is true that the markets seem a little "oversold" after the strong moves this week, so a small recovery may be necessary. But the bears are likely to continue to hold their ground in a bearish macro environment.
They have broken another support zone this week around 11,750. The area around this level is now the most important short-term resistance zone to protect. As long as the index is below here, the path of least resistance would continue to be down to the June low of 11,036.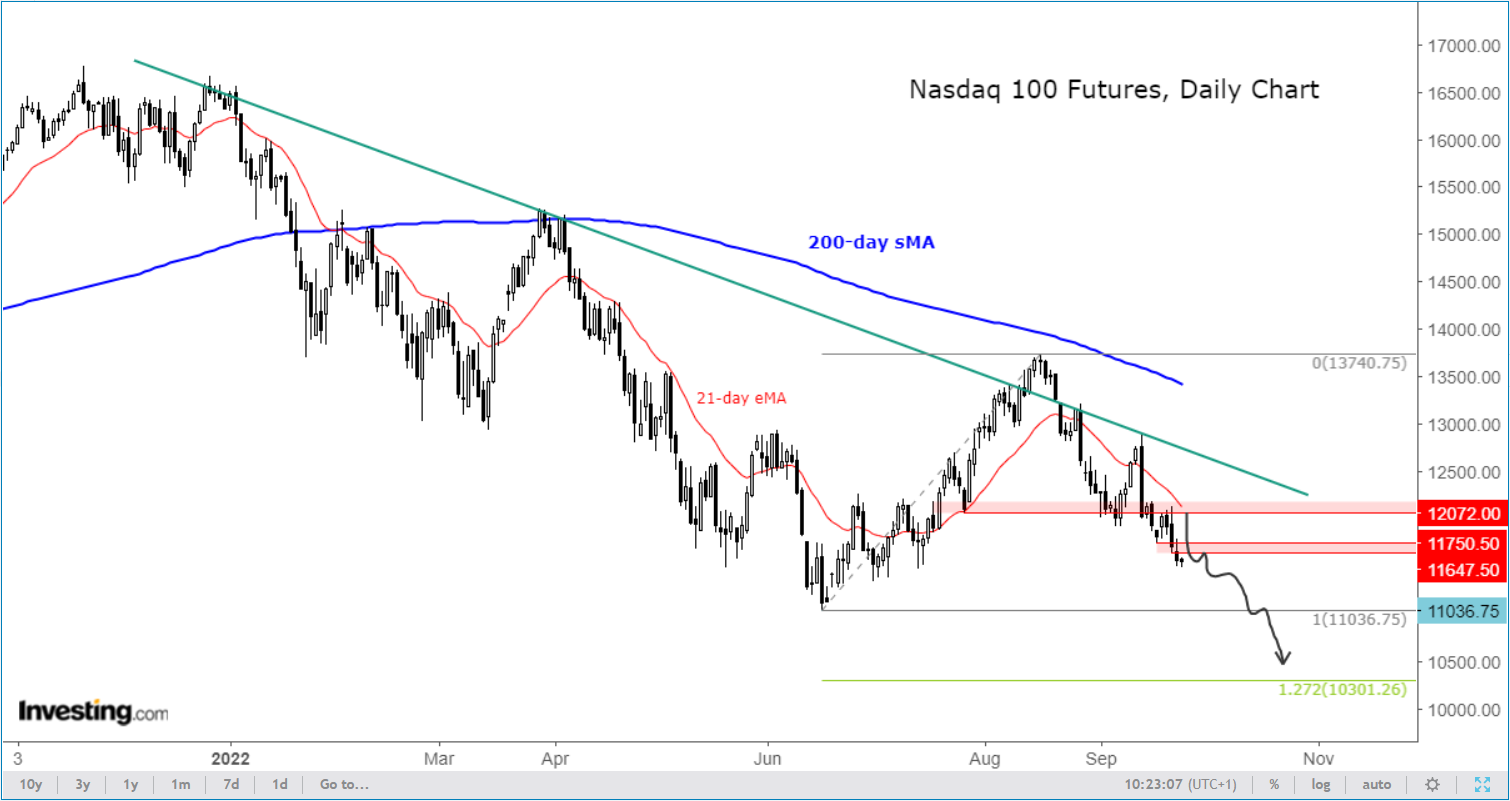 The lower lows and lower highs, as well as the declining 21- and 200-day moving averages, objectively tell us what we need to know. Therefore, there is no doubt that the downward trend is now correct.
So far, and as I argued, stocks are still stuck in a downward direction. Investors this week dumped stocks as well as the , the , and almost all other currencies as they watched yields rise after an avalanche of central bank activity.
Among them, the US Federal Reserve announced a 75 basis point rate hike and indicated that it would continue to raise rates aggressively until inflation is brought back under control. In response, bonds defaulted, causing bond yields of all maturities to rise. US bonds rose 3.7%, making low-yielding and non-yielding assets such as some technology stocks and the , even less attractive to yield seekers.
In addition to growing concerns about rising interest rates and inflation, the energy crisis continues to weigh on the European economy, as Russia's invasion of Ukraine continues after Putin announced that military reservists are being sent to Ukraine as part of a "partial mobilization" of its forces. Today's soft European PMI figures underscore those concerns. In addition, there are growing concerns about the health of China's economy, which has been held back by the government's zero-covid policy and global economic weakness amid mounting price pressures.
Given these macro concerns and the technical outlook, I wouldn't bother buying the dips until the charts tell us otherwise. For traders who cut indices, it was a good year. This trend is likely to continue until something fundamentally changes.
Disclaimer: The author does not currently own any of the instruments mentioned in this article.
Start investing your money in cryptocurrencies and get Free Bitcoin when you buy or sell 100$ or more if you register in Coinbase