This week the Colombian financial system meets in Cartagena to plan for the future, within the framework of the Banking Convention the social contributions made by banks to the country, the efforts to achieve greater financial inclusion are discussed, and they show the progress has been made, some companies which until recently were applications, become Financing Companies and already grant credits and take resources; while others show surprising results that speak of growth in profits over 100%. In all these groups and discussions, Bancolombia is an example.
The paisa holding company has been full of good news, starting with the independence of her son, Nequi, who established a separate farm and now develops his business as an independent company. And yesterday there was also a space where the president Juan Carlos Mora presented the progress the company is making in relation to rural financial inclusion.
During that marathon day, Mora had a few minutes to talk to EL COLOMBINO about the good moment of Banco Colombia and the challenges we face with the change of government.
Last week the Bank of Colombia presented its results, what do you define the 106% increase in profits in the first half?
"This week, the Dane reported GDP growth for the first semester and if it were annualized, it would be 10%. It's very good, it's vibrant and we're part of that economic dynamic and we contribute to that dynamic through what we do. So I think the main reason is that the Colombian economy is doing well and therefore we did well at Bancolombia. But we are also incorporating new ways of doing business, in the digital part with offers that allow us to be closer to customers, we are interacting better with our customers and we have many new customers and that also contributes to good results. ". (See brackets)
What does the separation from Nequi mean for Bancolombia?
"I compare it to what happens when a child gets old and leaves home, there are mixed feelings, he leaves and he will be needed in the house, but at the same time the happiness is that he will be able to grow and develop. Nequi is already a young adult who has grown up under the shadow of Bancolombia and we will continue to be there whatever he needs, because we are the sole owner of Nequi; but he will have flight and dynamism that allows him to develop much more".
And if Nequi leaves, how will Bancolombia compete with the neobanks?
"Today we are already competing, in fact we have an important leadership, we are going to continue to advance in product offers, in the ability to grant credit, in the possibilities of insurance investment instruments, to complete that offer that is in people's daily lives . We also compete with our infrastructure, with the possibility of connecting to more than 5,000 ATMs and the 26,000 banking correspondents".
They also recently announced the entry of Miami through Bancolombia Capital, what does it mean to enter that market?
"With the official opening of a stockbroker in the United States, we try to expand the offer to our clients and give them more opportunity to diversify, allowing them to invest in a market as developed with the United States."
Returning to the local community, in Medellin there is a very tight relationship between Mayor Daniel Quintero and the business community, especially those of GEA, how was Bancolombia's relationship with the current administration?
"It was traditional in Medellin that a joint effort was made between the private sector and the public sector for the city and for the benefit of the city, and I believe that this is the secret of the good things that happened to the city that was in charge. it is an example in many processes after being stigmatized for many years due to drug trafficking. Today Medellín is seen as a vibrant city and the reason is what we have done between university, company and State. From the private sector we will still be available to do that because we believe it is wonderful and has benefits for the city. Now, if they consider in a particular administration that this model does not contribute, then we will continue to work. In the end, administrations change and run and time will show the triumph of this model".
Since November, there have been many account holders of the Public Acquisition Offers sent by the Gilinski family for GEA companies made by Bank of Colombia, are there any concerns about a new takeover bid for the bank this time?
"When a company is listed on the stock exchange as we are, we play by clear rules, this is a public market, where shares are traded openly, there are buyers and sellers. I am a Banco Colombia administrator, in particular, who has to answer to some shareholders and there are those rules of the game that we have consciously chosen, so I would be wrong to say that I don't think it is if there is they play with. the rules of the game we have chosen and we are happy that this victory on the public stock market allows someone at some point to try to make an offer for Bancolombia, whatever it is.
When Gilinski presented the takeover bids for Nutresa, Sura and Argos, the presidents of those companies argued that since the Colombian stock market is so small, the shares of the GEA companies were undervalued.
"Bancolom has another characteristic compared to the other companies and that is that it has been listed on the New York Stock Exchange for over 25 years, so we have a tradition and perhaps the New York market is one of the most liquid ones. around the world, so there are buyers of all types and assets liquidity values ​​are much better. In addition, we have the possibility to be on the Colombian Stock Exchange and the Chilean Stock Exchange, which gives us all access to buyers and sellers on a global level who value the company better. Now we are not exempt from the perception of political risk in Colombia, but that is a factor that covers all the companies we operate in our country, due to the uncertainty due to political changes that have some effect on the valuation of the company. companies".
So let's talk about that change, President Petro said in the Andi Conference that he is not interested in the economic growth that occurs from the financial sector and prefers to produce the real economy, does that worry you?
"I think that discussion is important and that the government understands the role of the private financial sector, which is very important in the economy, because it is a catalyst and a catalyst, which provides public savings for economic development. I believe that this is a dialogue that will take place as we interact with the Government. But I think all this can be complemented with public banks and development banks, which are a very important complement".
How do you see the tax reform?
"You have to understand that Colombia has a challenge to balance its public finances, which were greatly affected by the pandemic that created an unsustainable fiscal deficit, and whatever government came in had to tackle that problem.
So you have to understand that some extra precautions are needed to balance the finances for the good of the country. Now, I have some opinions about this reform: in relation to the financial system, there is the surcharge that would remain permanent, we do not believe that it should be there, we can cooperate together and contribute to a temporary situation as before, but making a sector permanent is a penalty. There is another view regarding the tax on dividends and double taxation, that is, for investors in the financial sector, if we have an income tax of 38% on profits plus a tax on dividends of 20% or up to 39% on a marginal basis . , because that encourages investment in the financial sector and that worries us; in this sense, it is necessary to achieve a balance between this need for financing and not to discourage investment in sectors that can generate economic dynamism".
The reform gives a modification of 4 x1,000, so that the exempt part can be used in any savings account, how would you apply it from the bank? How will Banccoloim know what a user has received or spent in any other bank?
"That is the heart of the matter, how do we get it to work and it will require interconnection between all the banks so that we know when you use an account in Davivienda or when you use it in Bancolom and it can that will happen in a minute. This will suggest that there are some very important technological developments that need to be arranged so that good intentions can be implemented and benefit people, and not something that cannot be implemented".
There is also a proposal that is being saturated and it seems that it will enter the reform that is the limit of the use of cash to transactions of a maximum of 10 million pesos What do you think?
"Money is the vehicle that people and companies use to evade taxes, that is very clear, because cash is not traceable and it is also a means of corruption; So the goal of limiting the use of cash is commendable, it is positive. I think some income will be very important in collecting. Now we have to take it in a practical way and I don't know if the limit is $10 million or how much it is, but those big money purchases should be traceable, there should be a record of the origin and if there is that money. pay taxes".
There is a question that must always be asked: every two weeks people complain about the bank's request, what is the Bank of Colombia doing to stop this?
"The first thing is that I want to apologize for those drops, it's worrying, I know it shouldn't happen and I know people expect us to have the service the all the time. The second thing I want to tell you is that we have three weeks without problems, as a result of the work we have done, so we are applying all our resources, without limiting investments, because that is our priority. . We have been there for the last three weeks, we hope to have many more without problems and we believe it will be like this because we are doing everything possible".
Where is Banco Colombia going?
"We are going to continue to put and promote that development that seeks the benefit of Colombia, facilitating access to credits, and we will continue to achieve that objective that everyone should have, that activities sustainable by us. The message is that we will continue to grow and continue to contribute to the countries where we are, developing more capacity, in Colombia incorporating more digital, easier and engaging with Colombians and people who live in the countries where we are. end to fulfill their dreams and develop their economic activities".
*At the invitation of Asobancaria
$3.51
In the first half of 2022, Bancolom's profits were a billion, 106% more.
$52.9
trillion the bank delivers credits to a million people between January and June.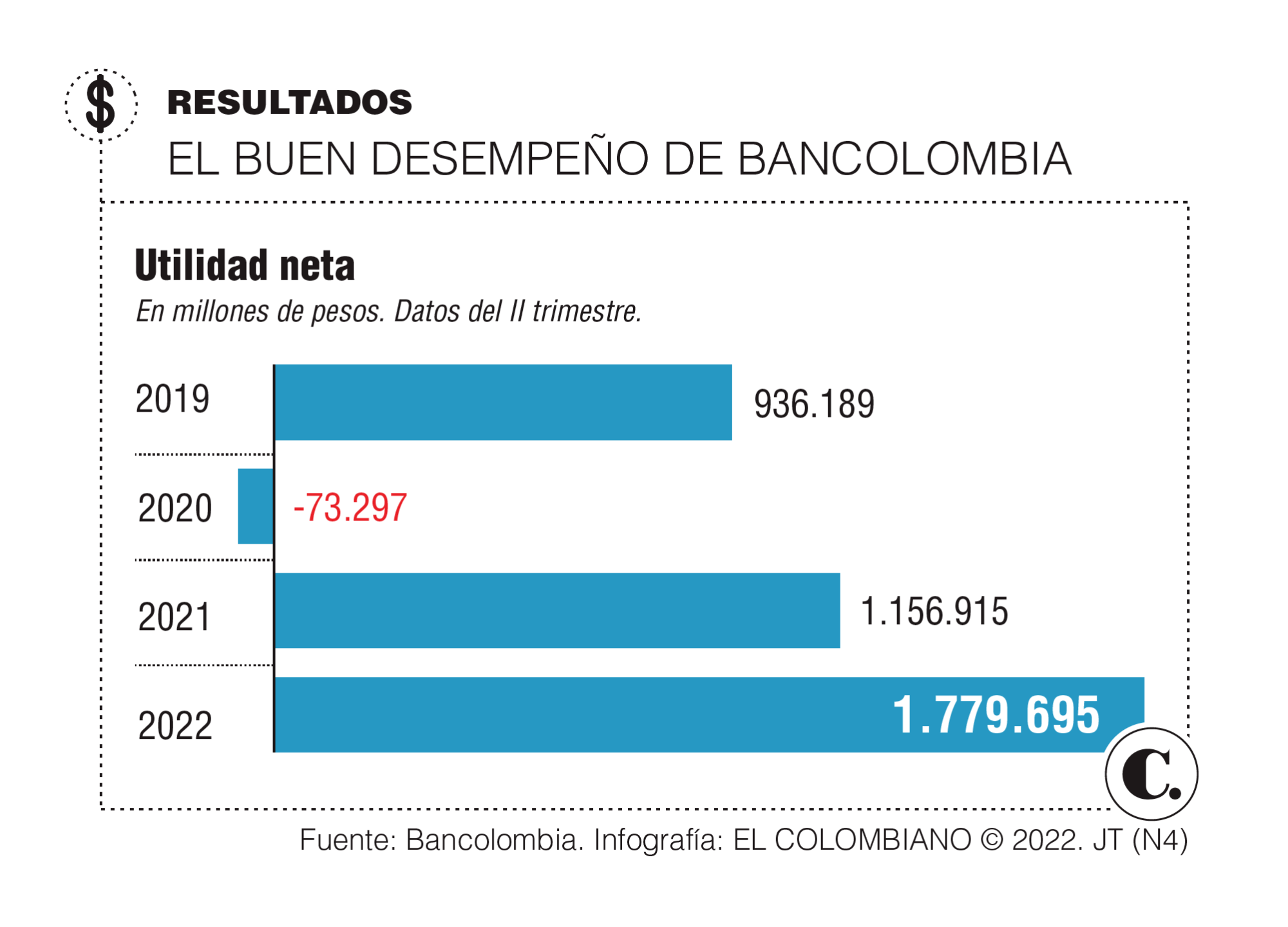 Start investing your money in cryptocurrencies and get Free Bitcoin when you buy or sell 100$ or more if you register in Coinbase