Recent News
Alejandra Hernández López found one of her greatest passions in dance since she was eight years old. However, when she tried to be part of a dance group for a show or competition, she never had the luck to do so due to certain requirements she did not meet, which discouraged her from continuing the that activity.
It was then that he discovered the break dance, a discipline in which he felt affinity, connection and, above all, he found freedom and identity to develop as a person. Although she also had to overcome obstacles and break down barriers and stereotypes about being a woman in a male-dominated discipline, she managed to achieve transcendent success.
Due to her passion, Alejandra, a student in the sixth semester in Graphic Design at the Faculty of Advanced Studies Acatlán, achieved a great victory in 2022 that led her to win the Puma Prize as the Best UNAM Athlete in the discipline. break. He recently received the award at a ceremony held at the Raoul Fournier Villada Hall, of the Faculty of Medicine, at the University of Ciudad.
In an interview, Alejandra expressed great joy: "I feel very good, I think this achievement is due to everything we worked together with my team and my coach Gerardo Estrada, who who recommended me for this award. I was surprised when I heard the news, which makes me proud, but it makes me very committed to continue preparing myself to improve and continue to proudly represent FES Acatlán and UNAM".
Despite the obstacles in her path, Alejandra showed her determination and ability in the break. "From the moment I saw that this set me free and recognized me, I fought so that no one would take it away from me. Starting because I was in the men's line, I always believed that we can do the same thing with them. From there, the "you won't be able to", "this isn't for you", "you won't survive here", was my motivation to progress and with the help of my team and coach I was preparing to be in the finals of every competition", he explained.
Alejandra won the bronze medal in the National Games organized by CONADE, where almost 60 competitors took part, as well as two gold medals in the University Games in the women's 1vs1 and 2vs2 mixed categories. These achievements earned her the Puma Award, which inspires her dreams. "This makes me very motivated, knowing that this discipline is already Olympic, we will find a way to go, first to the Pan American Games in Chile and, why not, to be in the 2024 Olympic Games in Paris. I will prepare and try to achieve it," he said.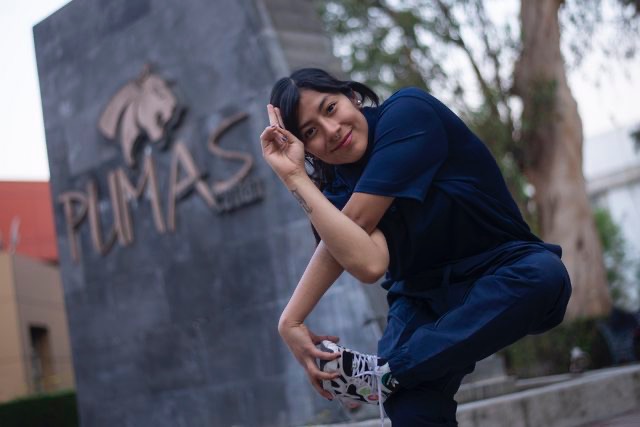 The 22-year-old Alejandra Hernández López cannot imagine her life without him. break. This discipline gave her new family, friends, and a close friend who helped her pick herself up when she was about to give up. "Thank you for me crew (group), my coach, those people I got to know who didn't let me fall apart, even when I took a temporary leave from school. That's why I introduce myself as cadre (fate), and I believe all this time that fate puts you in the right place", he said.
Already known as an example and inspiration to many, Alejandra Hernández López knows that we must continue to break continue to grow in the FES Acatlán community. For that reason, he invited them to learn about and register for the workshop given in this multidisciplinary unit so that a representative team will soon be available. "Nothing would give me more pleasure than future tournaments with a team of break of the FES Acatlán, but for that we must continue to work", he insisted.
To end the interview, the athlete sent a message to those who are new to studying or are studying: "If you don't do something you like and love, you won't do it well."
Leave your comment
Opinions