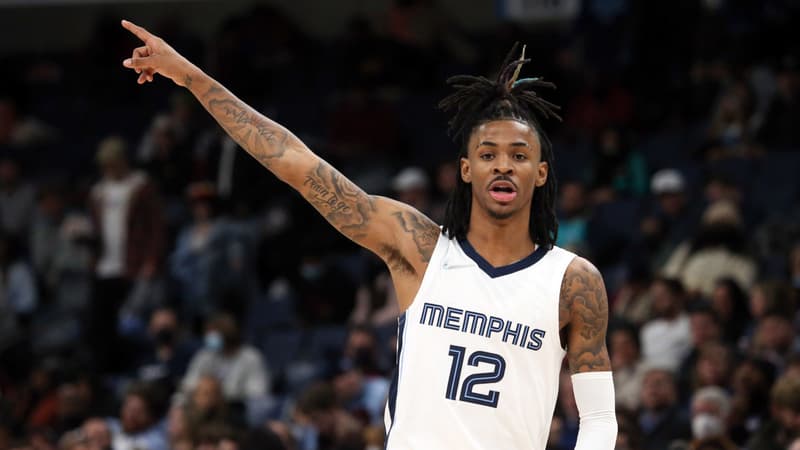 Monstrous again against the Los Angeles Lakers (127-119); Ja Morant pleased the spectators with a monumental counterattack against Avery Bradley.
Ja Morant is not a player like the others. The flagship of the Memphis Grizzlies; 4th in the West; made a new exceptional gesture on the floor of the Crypto.com Arena of the Los Angeles Lakers; NBA champions in 2020 (127-119). During the first quarter; Avery Bradley goes against to score two additional points for the Angelenos; but the leader of the Grizz (1.91 m) flies over the rim to counterattack with both hands and recover it to launch the attack of his team . The action of the game for which he was discreet in his statistics (16 points at 4/10 shooting).
The "King" bows
An exceptional action that left the Lakers star speechless; Lebron James (37); author of a new recital this Sunday (35 points; 9 rebounds and 7 assists). "It was a great moment. It felt like he was stalking his prey… I had no idea he could do something like that in that way. He's got rockets in his calf muscles. It was really a spectacular game." King". also author of a memorable counterpart during the NBA Finals against the Warriors in 2016.
This lunar counter by Ja Morant made the rounds on social networks and did not fail to make people react. Nicolas Batum; the Los Angeles Clippers winger; even had some fun. "Real question: is this the most athletic counter in history? I didn't say the best;" the Frenchman wrote on Twitter; referring to its anthology cons achieved in the semi-finals of the Olympic Games; when he beat Slovenian Klemen Prepelič to offer his team qualification for the final; dressed in silver against the United States.

NBA news on Journaltime.org