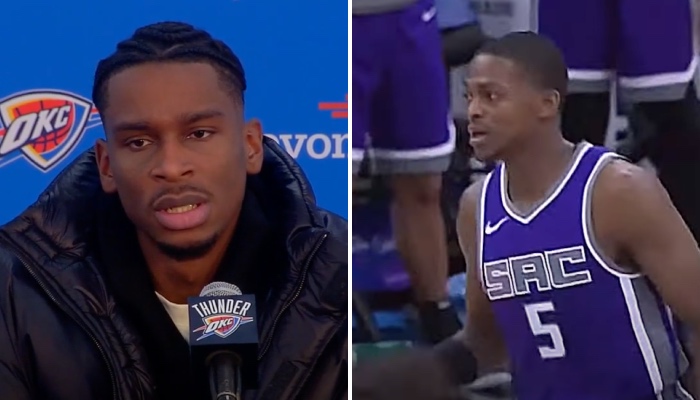 Bally Sports (DR) / NBA (DR)
What if Pandora's box was Opened ? On Thursday, the Hawks and Knicks kicked off hostilities with a big trade over Cam Reddish, and this move could lead to others. In the Western Conference, the name of a young star begins to circulate.
The Hawks and Knicks, two struggling teams, have decided to launch hostilities in the transfer market by staging a trade centered on Cam Reddish. New York will try to take advantage of its defense and its few offensive flashes to find a good balance in the rotation, as for Atlanta, it is a matter of seeing if this exchange can serve as an electroshock to finally get its head out. back in the game. 'place.
And if the results are conclusive for these franchises, others could take inspiration from the February 10 trade deadline. According to information collected by Chris Haynes, certain names are also beginning to circulate through the corridors, and in particular in the context of a swap for Ben Simmons, still stuck in Philly. Daryl Morey would have his eyes on another young star in the league!
The Sixers would consider De'Aaron Fox
Report: "The Philadelphia 76ers weighed the possibility of a (De'Aaron) Fox, Ben Simmons trade package as recently as a few days ago, but the dialogue remains exploratory due diligence."

(via ChrisBHaynes) pic.twitter.com/g2vuChigmJ

— Central Hoop (@TheHoopCentral) January 14, 2022
The Sixers were considering the idea of ​​a trade around De'Aaron Fox and Ben Simmons just a few days ago. The dialogue remains for the moment in the domain of the necessary exploration before making a decision.
The Sixers feel that time is passing and they finally want to activate themselves to find a way out for Ben Simmons. Daryl Morey, who initially wanted a top 10 player in the league in return, was apparently considering bringing in De'Aaron Fox along with Joel Embid. A track that could delight fans as the lead is talented and still shows promise.
This season, in a Sacramento that unfortunately is not advancing, the leader goes back with "only" 20.9 points and 5.1 assists on average, figures far removed from those of last year (25.2 points and 7.2 assists from half). In these conditions, he is well aware that he could pack his bags, and he spoke about it recently.
We're in trouble, so obviously I'm thinking about the possibility of being traded. It's my fifth season, I've had deadlines, I've seen people leave at the last minute. It's a business and anything is possible, I see all the rumors on social media… Am I worried? No. Can I be changed in the next few days? Of course, it is very possible.
De'Aaron Fox feels his time may have come in Sacramento, and it's not a bad thing for him. With the Sixers, he could discover the intensity of the playoffs and the joy of playing the leading roles, something he won't necessarily experience with the Kings.