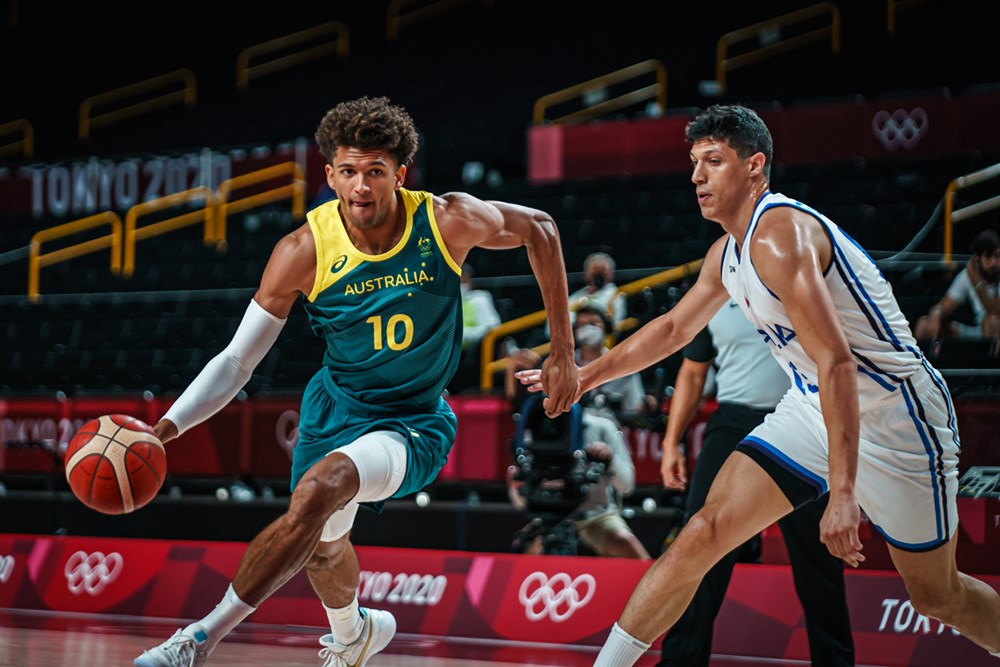 Should NBA franchises release their young players for international competition? Matisse Thybulle's experience during the last Olympic Games will inevitably bring water to the mills of those who prefer real competition to more advanced personalized training.
"It's funny because most people think that in order to get better you have to have an off-season of training and work on your game, whereas I didn't have time to do that. These Games are the most important thing I've done in my career, although it doesn't necessarily show, but the value I bring to the team has definitely increased and the coaches see it."
Opportunist in attack
During his epic in Tokyo, Matisse Thybulle felt that he had reached a milestone in matches. The coach, Brian Goorjian, had played fair with him, announcing at the start of the competition that no system would be announced for him and that he would have to fight for opportunities to show himself.
"For most coaches, it would have been very difficult to say that to a player, for fear of his reaction. But he guessed recalled the Sixers winger.
Upon arrival, Matisse Thybulle was one of the most productive Australian players of the Olympic campaign (8 points, 3.3 rebounds, 2.5 assists on average) which ended with a historic bronze medal. The 24-year-old then focused on three aspects of the game to prove his worth to the Boomers: the transition game, "spacing" behind the 3-point line and cuts to the circle.
"It is a learning process. The value of most players comes from their offensive production. For most guys to produce offensively, they have to be offered a system. It was great to see all of that, presented in black and white, because I had a hard time doing it in the NBA., he added. "When you're a kid, you look up to great players. Everybody wants to be a star, but people don't understand that there are only a handful of these guys. Teams are not made to have several at the same time (…). Thanks to this new way of cutting, I created a great little niche for myself and found ways to have different levels of success in this field."
A balance with your defense to maintain
The objective is, therefore, to transcribe this same versatility in NBA basketball and above all without distorting its main strong point, which continues to be defense.
"For whatever reason, I have this set of qualities that allows me to do interesting things on defense. It is very difficult to find a balance that allows me to explore this new area while still being a solid and constant defender." continued Matisse Thybulle that he can count on the Sixers roster to be with him. "I have a lot of respect for our staff because they gave me enough freedom to be myself. It's not easy because I made a lot of mistakes, but by letting myself play I learned what I could and couldn't do".
The effect on this start to the season with Philadelphia is still very slight statistically, even if Matisse Thybulle is having the best offensive season of his career (5.7 points per game) and remains in two games with 10 or more points (the first since his season rookie). ). But the balance with defense is still there, with the Australian being one of the best interceptors in the league for example (1.8 per game). And above all, the Sixers recover to win games, despite the absence of Ben Simmons.
For those interested, the Olympic experience has been, therefore, their best springboard to date.
"Guys are afraid to play in the off-season and overdo it, but they've seen Patty (Mills), Joe (English), Matthew Dellavedova and Aron Baynes do it forever. They spent long summers playing basketball. I think it speaks to why their careers They've been so long and why they've been able to be so consistent in the NBA, I try to take inspiration from them in that regard. ends like this.
Matisse Thybulle
Percentage
bounces
Season
Team
MJ
minimum
shooting
3 points
LF
Off
Def
Until
P.S.
source
in you
bp
Connecticut
points
2019-20
PHL
Sixty-five
twenty
42.3
35.7
61.0
0.7
1.0
1.7
1.2
2.2
1.5
0.8
0.7
4.7
2020-21
PHL
Sixty-five
twenty
42.0
30.1
44.4
0.5
1.5
1.9
1.0
2.0
1.6
0.5
1.1
3.9
2021-22
PHL
30
26
49.3
29.3
88.9
0.5
1.8
2.4
1.1
2.4
1.8
0.8
1.1
5.9
Total
160
twenty-one
43.8
32.3
60.3
0.6
1.3
1.9
1.1
2.1
1.6
0.7
0.9
4.6