In December, I was able to try one of the Topgolf resorts in the United States. A gigantic structure, full service, a crazy atmosphere but also, as you can imagine, a real golfers factory. Review of this machine that little by little is conquering Europe and that is about to end in Germany.
One night at Topgolf
By chance on the agenda for this end of the year, I land in Atlanta and find myself a few hours from the Georgian capital, Birmingham, Alabama. This city located in the southern United States is home to one of the 70 Topgolf resorts. Keep in mind that the climate in Alabama is quite temperate. Despite Christmas just a stone's throw away, the daytime temperature hovers around 20 degrees Celsius. I better understand why Topgolf can race here all year round at full speed.
On 3 levels, 102 bays can accommodate a maximum of 6 golfers each. Located on the outskirts of the city, we quickly see the tall nets supported by pylons that surround the playing area.
It's barely 5 p.m. and the parking lot is already full for a Tuesday. Climbing the entrance steps, you land directly at the souvenir shop. Before even going to the recording, every effort is made to leave as many as possible. You can choose from accessories of all kinds, as well as Under Armor or Callaway polo shirts. The latter who was Acquisition of Topgolf in 2020.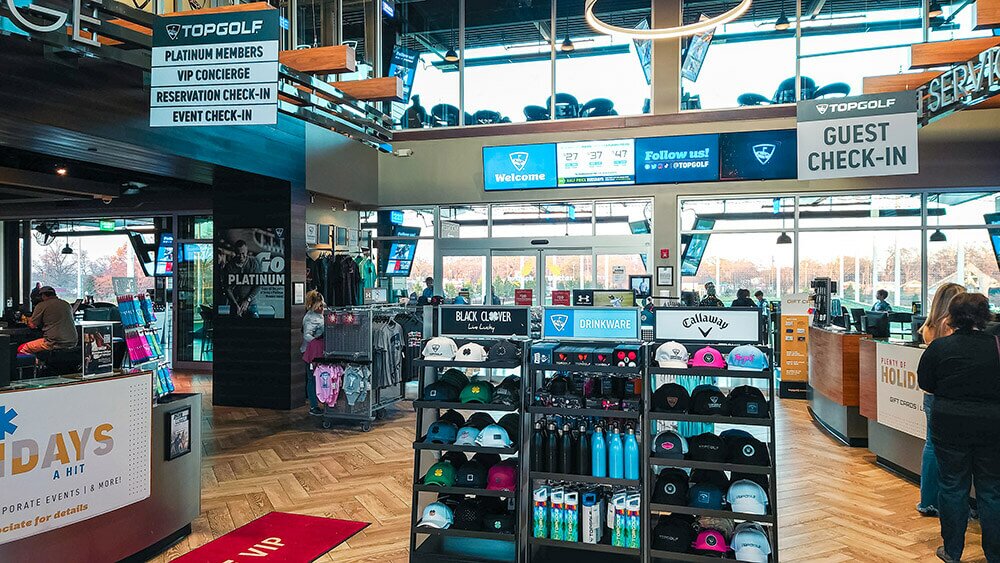 After a quick check-in, head over to the game bay, there's no time to waste.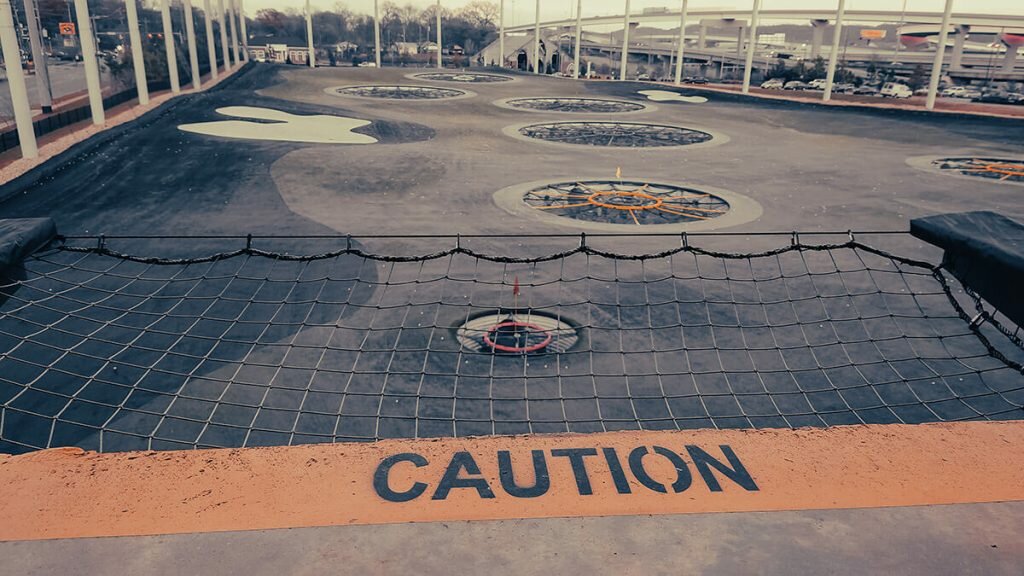 You have to walk a bit to get to the bay. I'm surprised by the size of the facilities. We are in the United States, which is more in the center. Space is far from being a luxury. But still. I can distinguish different types of berries. Some have high tables and bar stools. Others are with sofas and a large coffee table. I walk past the roof terrace with his armmen.
I arrived. From this unobstructed view of the last level, the freeway interchange to my right feeds us with some uneven V8 sounds.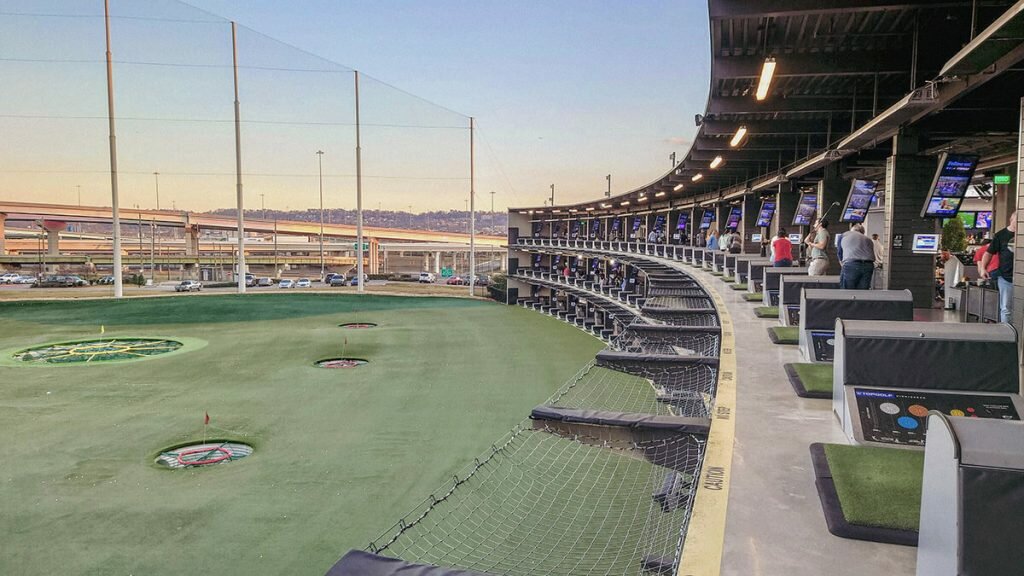 To avoid fragmented transactions, an "account" is opened for the occasion. We pay an amount on which each consumption will be discounted. Please note that the amount is non-refundable after the session. Be sure to follow the instructions and feel free to ask for more if the session is about to end.
Now is the time to play.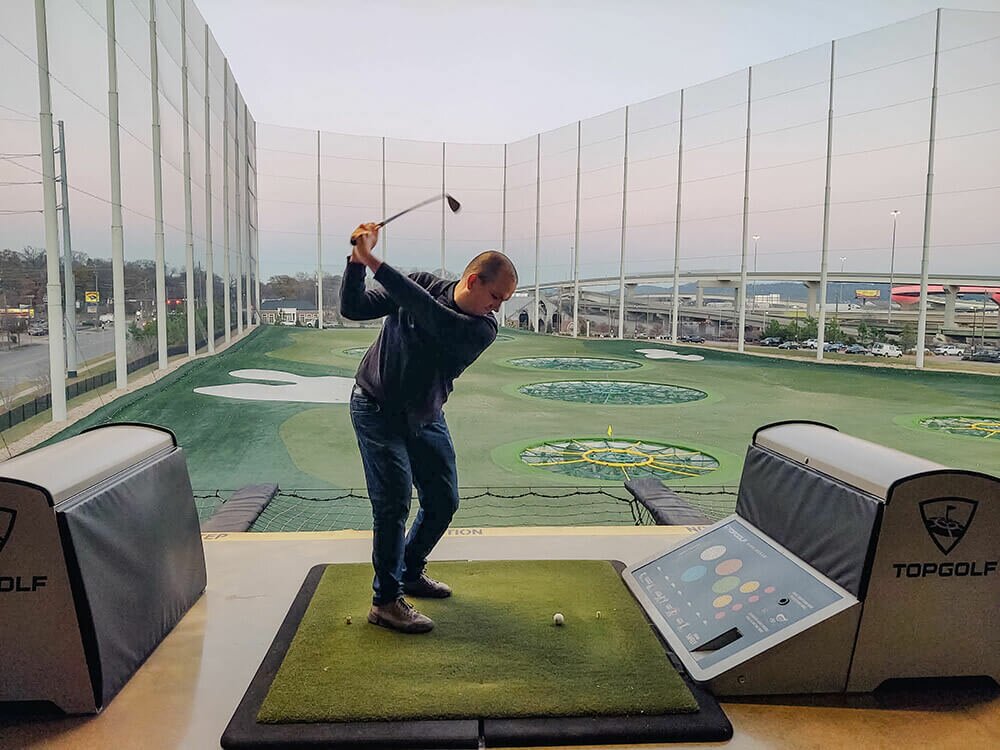 Only after dark does the place reveal its magical side.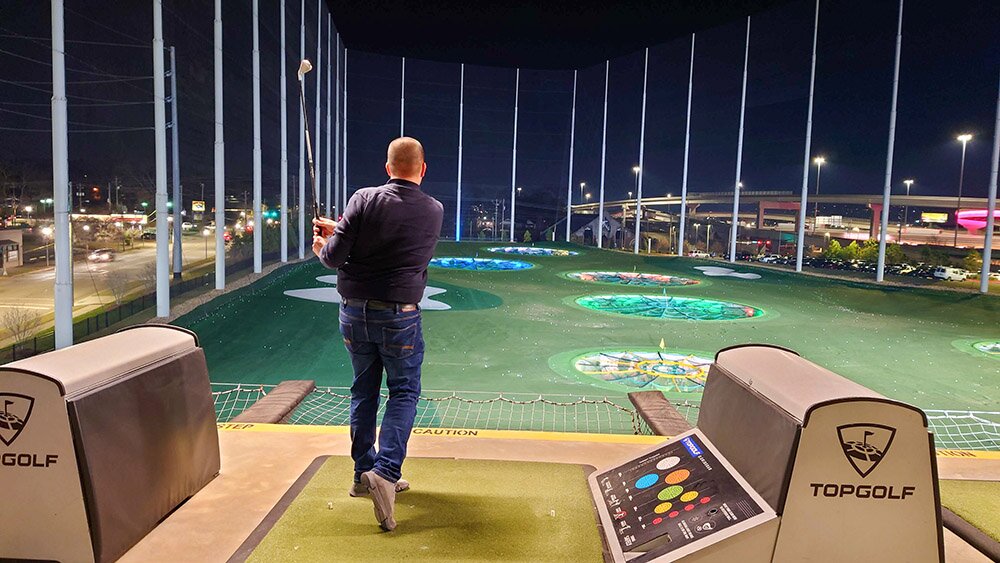 There are several game modes available, but the most popular one consists of 20 balls to score as many points as possible. The further the ball lands in the center of a target and the further away that target is, the more points will be scored.
Professional advice: For those who want to go very far, there are detectors located at the rear of the field. The more the ball lands in the center, the more points you will score.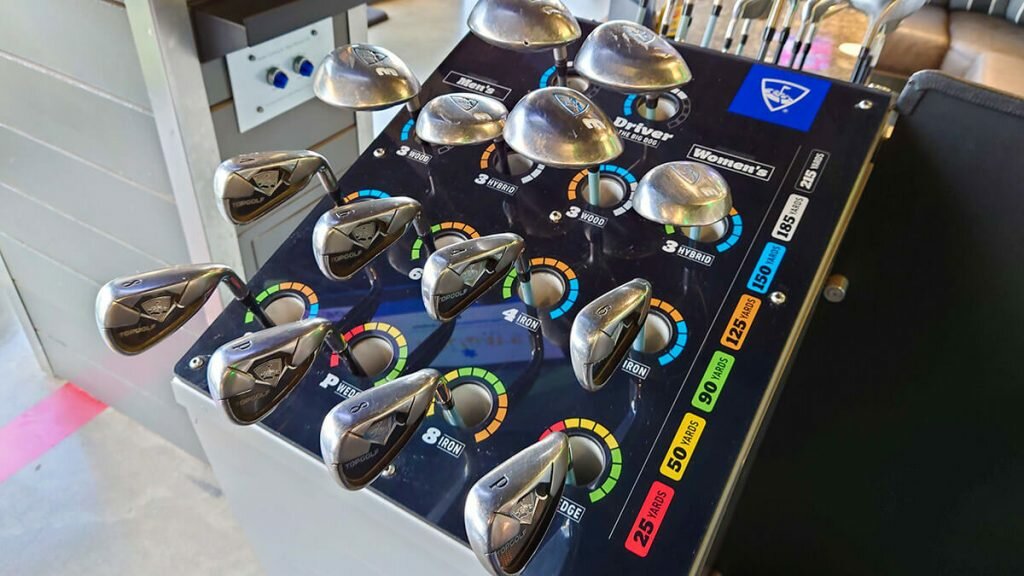 The objectives are quite broad, and even if you are with inexperienced players or even beginners, they will be able to have the reward in points, thus participating in the party as it should be. And that's when the magic happens. In a relaxed atmosphere that is more like a trendy bar, everyone can play golf. No barrier, just laugh. With this laid-back atmosphere, you can even forget the basics.
Unlike bowling, here you must not forget to change (click) on the name of the player who will take the mat. In fact, there is no maximum number of balls per round. You can hit 20 balls in a row. On several occasions I found myself playing for another player. Sometimes in his favor, sometimes in my favor.
A member of staff comes very often to find out if you want a drink or order something to eat. After all, as long as there is money in the account….
We quickly get caught up in the game and the 20 moves we have go at the speed of light. However, it is easy to pass the baton. Although a beginning player may be overwhelmed by events and will only hit 2-3 balls in a row, they will easily return to the mat, without suffering any comparison, to try again, to score points.
Observation round
I take advantage of the rest time to look around me. I see groups of friends arriving, colleagues but also families who will spend the night here. After all, all the ingredients are there to have a good time.
The changes are chaotic and out of sync, but we are not here to pass the cards of a minor turn. This is about practicing and having fun together. Drinks and food only serve as a reminder of everyone's needs; golfers or not.
Topgolf and Europe: soon in Germany
With only 3 locations in Europe, all located on the outskirts of London, and despite international recognition, it is difficult for us to access Topgolf; continental Europeans.
Certainly, there is this crazy FunGolf project in France, which for several years has kept us in suspense, but it lacks materialization.
Just over a year ago, Topgolf Entertainment Group announced through a press release that Oberhausen, a municipality bordering the triangle of Dortmund, Essen and Dusseldörf. On his Instagram account, construction of the complex is progressing rapidly, even if work has been delayed due to the pandemic. But according to their stories, everything will be closed in 2022.
From then on I would pay them a little visit to compare and see if Topgolf Germany is on par with Topgolf Birmingham in Alabama.
Photo credits: Nicolas Bykoff `(if other specified)
General impression
Facilities
Maintenance
Hospitality
So it was true. TopGolf is made for all audiences to have a good time. I want to go back …

#Topgolf #USA #BOGEYMAG
Journaltime.org Breaking News 24/7 Copr.