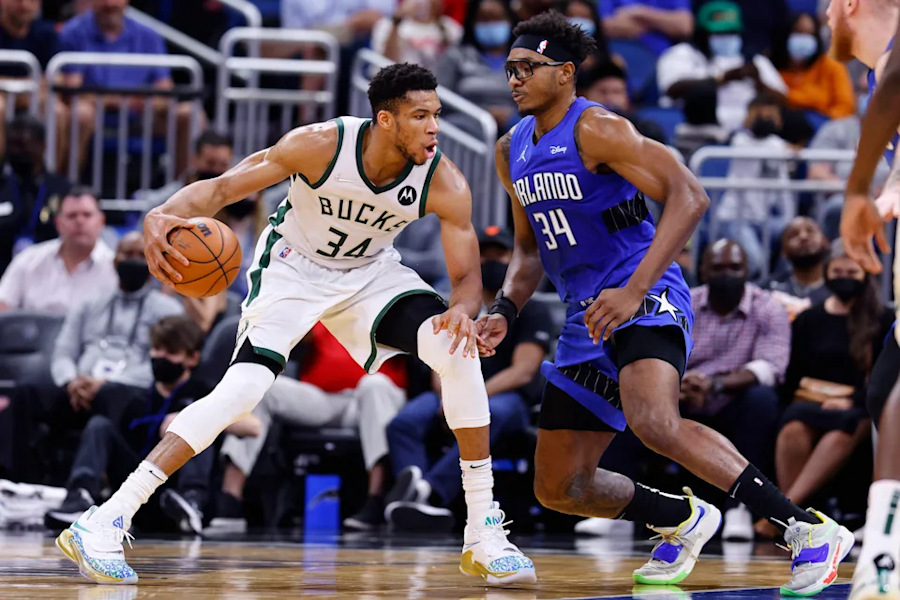 The Bucks have almost gotten their entire workforce back, and here they are, posting a fifth straight victory. Like Tuesday night, Giannis Antetokounmpo and his family won in Orlando (136-118) and this time, they had to wait until the end of the 3rd quarter, and the beginning of the 4th quarter to make a difference.
However, thanks to Wes Matthews, the Bucks looked safe at halftime with a 12-point lead (63-51), but Gary Harris and Tim Frazier will wake up the crowd and their teammates with 3-pointers. Wendell Carter Jr. is even allowed to dunk Giannis and off to the side, Jalen Suggs and Cole Anthony are literally dancing for joy!
Always so flawless, Franz Wagner draws (71-71), and everything has to be done again for the Bucks. Worse still, thanks to Admiral Schofield, the Magic even take control with three minutes left in the third quarter.
On his bench, Mike Budenholzer leaves his players to their own devices, and he is doing well, as they signed 10-0 in one minute to regain width (89-80). Back on the field, Giannis Antetokounmpo takes the game on his own, scoring 12 of his team's first 17 points in the 4th quarter. Magic replacements are overwhelmed and Milwaukee takes a 17-point lead (112-95).
Milwaukee can then manage the endgame with Jrue Holiday and Khris Middleton who are in charge of responding to Moe Wagner's last arrows. Final victory 136-118 for this second consecutive night in Orlando, and the attack of the NBA champions offers a record of points for this season.
WHAT TO REMEMBER
– Fast sweep. Four games, four wins for the Bucks against the Magic this season. The defending champs even hold up to 11 straight wins over teammates Wendell Carter Jr. Only Detroit is worse against the Bucks with twelve straight losses.
– The impotence of magic. Orlando basically suffered under the panels, dominated in size and weight. Robin Lopez is not there, and Mo Bamba is barely recovering. In the first half, Milwaukee hit the racket and collected a lot of offensive rebounds. Upon arrival, that gives him 50 rebounds to 33, and 56 points written in paint.
TOPS / FLOPS
And Giannis Antetokounmpo. Without forcing much, the "Greek Freak" signs his 18th double-double of the season with 33 points, 12 rebounds but also 5 assists, 2 steals and 2 blocks. We will also remember his perfect 6 of 6 in free throws, an area in which he is still in difficulty this season. As soon as he accelerates, the defense is overwhelmed, and if Wendell Carter Jr. holds him back, he serves his shooters. It's déjà vu, and it's been revised for years, and Orlando pays a heavy price at the start of the fourth quarter.
✅ DeMarcus Cousins. Five fouls in 16 minutes, but it was he who woke up his teammates at the end of the 3rd quarter. Always in his inimitable style, he plays the shoulder forward, insists, and it hurts. He scored 13 of his 15 points in the third quarter.
✅ Wendell Carter Jr. He's the only one who held out under the panels … The Magic were stepped on but the former Bulls inside stood his ground and defended Antetokounmpo quite well.
⛔ RJ Hampton. Cole Anthony is absent, has a golden chance to win, but the former Nuggets rookie is still struggling to find the right balance. "Guard combo" doesn't weigh enough in the game, and its defense is highly suspect.
THE CONTINUATION
Orlando (7-29) : Sunday trip to Boston.
Milwaukee (24-13) : Pelicans reception on Saturday.
Magic

/

118
Tirs
Bounces
Players
Min
Tirs
3 points
LF
THE
D
T
P.S
Fte
In t
Bp
Connecticut
+/-
Pts
Eval

F. Gillespie

14
1/1
0/0
1/2
one
3
4
0
4
0
one
0
-one
3
5

F. Wagner

3. 4
6/12
23
6/6
0
3
3
one
one
0
3
0
-5
twenty
fifteen

W. Carter Jr.

33
5/11
1/4
3/5
two
8
10
5
4
one
one
one
-4
14
22

T. Frazier

30
5/8
3/4
0/0
0
one
one
5
4
0
one
0
-8
13
fifteen

G. Harris

33
7/15
3/6
0/0
0
one
one
3
3
3
0
0
+1
17
sixteen

A. Schofield

18
4/7
0/3
0/0
one
5
6
two
two
0
one
0
-12
8
12

I. Brazdeikis

twenty-one
4/6
1/3
0/0
one
one
two
two
two
0
one
0
-22
9
10

M. Wagner

25
15/5
1/8
8/10
one
two
3
3
4
one
one
0
-sixteen
19
13

RJ Hampton

32
12/5
2/5
3/4
0
3
3
5
two
0
one
0
-23
fifteen
14
Total
42/87
13/36
21/27
6
27
33
26
26
5
10
one
118
Dollars

/

136
Tirs
Bounces
Players
Min
Tirs
3 points
LF
THE
D
T
P.S
Fte
In t
Bp
Connecticut
+/-
Pts
Eval

G. Antetokounmpo

31
13/22
1/4
6/6
two
10
12
5
4
two
4
two
+17
33
41

K. Middleton

33
15/6
3/7
7/7
0
3
3
6
4
one
one
0
+7
22
22

B. Portis

26
5/9
0/1
1/2
5
4
9
0
3
0
one
0
+14
eleven
14

J. vacation

33
11/8
3/4
6/6
one
4
5
7
0
3
two
two
+9
25
37

G. Allen

23
1/5
1/4
1/2
0
0
0
0
0
one
0
0
-3
4
0

Cousins

sixteen
5/7
0/1
5/5
one
4
5
0
5
0
0
two
+6
fifteen
twenty

G. Hill

sixteen
1/4
0/1
0/0
one
one
two
one
0
0
0
0
+11
two
two

P. Connaughton

22
1/5
0/3
0/0
0
two
two
two
one
0
0
0
+6
two
two

D. DiVincenzo

19
2/8
23
5/6
4
5
9
one
one
0
3
0
+4
eleven
eleven

W. Matthews

22
3/5
3/5
2/2
0
3
3
two
one
0
two
0
+19
eleven
12
Total
45/91
13/33
33/36
14
36
fifty
24
19
7
13
6
136